Linda E. Menck
Department of Strategic Communication
​J. William and Mary Diedrich College of Communication
​o: Johnston Hall 520
ph: 414.288.3649
​e: linda.menck@marquette.edu

Fall 2018 Syllabus
---
"The people who are crazy enough to think they can change the world are the ones who do." – Steve Jobs
This course focuses on exploring the creative process and the impact creativity has on driving innovation across a variety of disciplines including business, engineering, health sciences, communication, and the humanities. In this hands-on, experiential course, students learn to work collaboratively and to apply design thinking and moonshot thinking methodology to solve complex community-based problems and identify solutions. Students practice using a variety of human-centered design problem-solving methods by observing human experience, analyzing challenges and opportunities, and envisioning innovative possibilities.
We Are Visual Beings Living In a New Visual Age
This new Visual Age is bringing us closer together as a global society because we are capable of

sharing and see

ing one another on a more frequent basis using technology.

Our perceptions of the world, the information we absorb and the signals we send, are overwhelmingly more visual in nature. We think and dream in pictures and symbolic images. We replay and re-create life visually in our heads. Even when we read, we transform the words into mental pictures.

We are also living in a time of unprecedented creativity, innovation and technological change. The study of visual communication can not be disassociated from innovation and the rapidly evolving technology being used to create, collaborate, distribute, and share the vast array of visual communication we consume every day, all day.

Living in a rapidly evolving Visual Age has changed the way we communicate and the more nimble we are in adapting to the changing nature and rapid growth of visual communication and technology, the better the chances are for achieving professional success. Today it's critical for engineers, scientists, educators, business, and communication professionals to learn how to inform, persuade, engage, and interact with accuracy and power by studying contemporary issues that focus on the intersection of visual communication, innovation, and technology.
---
An Experiential & Project-Based Course
This course is going to be different from most of your other classes. This is a project-based, experiential course that has been designed to challenge you to think, design, create, and explore the creative and innovative culture of Marquette and Milwaukee.
It's a Mindset
​We'll Practice Entrepreneurial Minded Learning (EML) with the KEEN Framework
Entrepreneurial Minded Learning (EML) is a course enhancement technique championed at Marquette University through the
KEEN Program
.
The EML approach is "to graduate students with an entrepreneurial mindset so they can create personal, economic, and societal value through a lifetime of meaningful work".
An entrepreneurial mindset is fostered through the realization of three primary student outcomes (referred to as the 3C's).
---
---
---
Powered by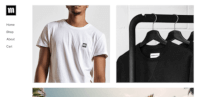 Create your own unique website with customizable templates.